GRACE INTERNATIONAL, INC. PRIVACY POLICY
PRIVACY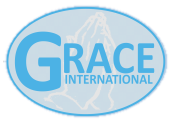 GRACE INTERNATIONAL, INC. PRIVACY POLICY
At Grace International, Inc. ("Grace International," "we," "us," or "our"), our fundamental philosophy is
"site visitors first." That value powers all of the decisions we make, including how we gather and respect
personal information. Our aim is for our partners to always feel informed and empowered with respect to
their privacy partnering with Grace International.
This Privacy Policy applies to all information received by Grace International, both online and offline,
written, or oral communications.
The Information We Collect
Grace International collects the following types of information, both directly from our donors,
guest or friends and indirectly through the collection of information by third-party service providers
and advertising companies.
1. Personal Information For purposes of this Privacy Policy, "Personal Information" means any
information
or set of information that identifies or could be used by or on behalf of Grace International,
or any of our Partners to identify or contact a natural person. Personal Information does not include
information regarding corporate entities or information that is encoded, aggregated, anonymized, or
publicly available information that has not been combined with non-public Personal Information.
Examples of different purposes for which we may collect Personal Information include, but are not limited
to:
• Online donations;
• Sponsorship program;
• Job applications; and
• Voluntarily submissions to Grace International requesting information about our projects and services,
ministry opportunities, signing up to receive information from us, or sending us an e-mail.
2. Non-Personal Information In addition to the Personal Information, we may collect additional information
that does not personally identify a person (collectively, "Non-Personal Information").
Non-Personal Information
may be information collected: from the person's Activity. Information that may
automatically collect when they visit, access our website and email us.
How We Use and Share the Information
We do not share Information about our partner's activity with third parties. We use the Personal Information
to process authorized donations, solicit their feedback, inform them about our projects, events and all happenings,
to maintain and improve our relationship to our partners.
Accessing and Modifying Information and Communication Preferences
Upon request, Grace International will grant individuals reasonable access to Personal Information that we and our
agents hold about them. For example, visitors to our website who have provided Personal Information to us may
review and/or make changes to the same by contacting Grace International.
How We Protect the Information
We take reasonable steps to protect the Personal Information and Other Information from loss, misuse, and
unauthorized access, disclosure, alteration, or destruction. Please understand, however, that no security system
is impenetrable. We cannot guarantee the security of our databases, nor can we guarantee that the information
that you supply will not be intercepted while being transmitted to and from us over the Internet. In particular,
e-mail sent to or from the Platform may not be secure and you should therefore take special care in deciding
what information you send to us via e-mail.
We do not knowingly collect Personal Information from children under the age of 13. If you are under 13,
please do not give us any Personal Information. We encourage parents and legal guardians to monitor their
children's Internet usage and to help enforce our Privacy Policy by instructing their children to never provide
Personal
Information through our Platform without their permission. If you have reason to believe that a child
under
the
age of 13 has provided Personal Information to us, please contact us, and we will endeavor to delete
that information
from our databases.
Changes to This Privacy Policy
This Privacy Policy is effective as of the date stated at the top of this Privacy Policy. We may change this Privacy
Policy from time to time. Please be aware that, to the extent permitted by applicable law, our use of the Personal
Information and Other Information is governed by the Privacy Policy in effect at the time we collect the information.
Please refer back to this Privacy Policy on a regular basis.
How to Contact Us
If you have questions about this Privacy Policy, please contact Grace International via:
• e-mail at grace@graceintl.org with "PRIVACY POLICY" in the subject line; or
• postal mail to: Grace International, PO BOX 694137, Miami FL 33269
Ph. 305-231-1117 or 954-394-8929
.................................................................................